Photo reference guide for identifying Black Soldier Flies
A quick photo reference to help in identifying Black Soldier Flies
Hermetia illucens
showing the different life stages (larvae, pupa, adults and eggs). A few other types of Soldier Fly are shown as well in the other posts below.
For more pictures have a look at the galleries at the
forum
and
blog
.
Some descriptions are taken from
http://ipm.ncsu.edu/AG369/notes/black_soldier_fly.html
and
http://en.wikipedia.org/wiki/Hermetia_illucens
---
This is the life stage you're mostly likely to encounter first. They may show up unexpectedly in your compost bin/pile or worm bin.
The black soldier fly larva is plump, slightly flattened, with a tiny, yellowish to black head. The skin is tough and leathery. Creamy white and about 1.8 mm long when newly hatched, the larva develops through six instars, the last of which is reddish-brown or coffee colored. The mature larva is about 18 mm long and 6 mm wide, although some individuals may be as long as 27 mm.
Newly hatched from eggs by PeteB
PeteB
PeteB
When the larvae are done growing, they enter a stage called "prepupae" wherein they cease to eat, they empty their gut, their mouth parts change to an appendage that aids climbing, and they seek a dry, sheltered area to pupate.
Attachment:
800px-Hermetia_Illucens_(Larve_sixieme_stade)_(sixth_instar_larva).jpg [ 41.04 KiB | Viewed 8717 times ]
Creative Commons
by Cricoidus
---
The motile (
capable of moving
) pupa develops within the darkened skin of the last larval instar (puparium). The pupa is about one-third the length of the puparium.
PeteB
---
You might spot an adult fly or two around your compost but never in swarms. They have a life span of just a few days and only exist to reproduce. The most distinctive features are white bands on their legs and two translucent spots on the second abdominal segment.
Public Domain (
link
) Creation Date: 1899
The diagram above and first two photos below show the translucent 'windows' on the abdomen. They can be hard to see as the fly normally sits with it's wings folded across it's back. The Black Soldier Fly is a wasp mimic which looks like a organ pipe mud dauber wasp to deter it's predators. The windows give it the appearance of having a narrow wasp waist.
marinos
A mating pair by Tarvus
Female laying eggs (ovipositing) by BW
---
Eggs
About 1 mm long, the elongate-oval egg is pale yellow or cream colored when newly laid but darkens with time. Each egg mass contains about 500 eggs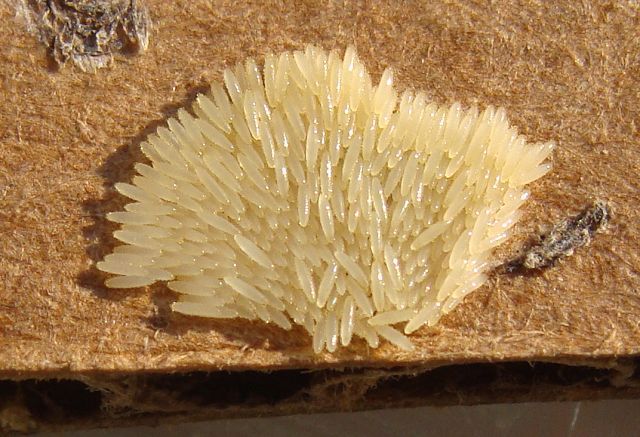 PeteB
PeteB